Top Features Of The Troxus T1 Electric Scooter
Stylish, sleek, yet versatile scooters are hailed often as the ultimate guide to the current woes of traffic! In addition to this, electric scooters with updated features also gave us the ultimate solution to our problems related to energy. For the electric scooters to be taken earnestly as a perfect alternative and also a planet friendly means of transport, electric scooters need to move forward and shine beyond their current image of high-tech toys, and represent as the ultimate problem solvers.
In recent times, you can see this enormous increase in the interest for the electric scooters- which was mainly directed by the famous introduction of scooters into cities overnight by the sharing companies like Bird and Lime. This introduction of the concept of scooter sharing has increased the awareness of the general public regarding micro mobility and encouraged the personal market growth.
The Troxus scooter team saw the important benefits of electric scooters, and worked hard to enter and improve this industry by introducing the world's best all round electric scooter, the Troxus T1. This electric scooter, Troxus T1, is a new kind of vehicle that is environmentally friendly, entertaining, and light. It acts as a perfect alternative to traditional means of transportation like cars, bicycles, and buses. It will allow the people to get the opportunity of hassle-free transportation.
Troxus T1 is developed and designed considering this background. Some of the top features of the Troxus T1 are:
Pop-up Battery
You do not need to stop moving anymore! Take your battery out to charge in your living room or your office, and keep another battery fully charged to replace it in the period of seconds when the first one gets finished. Troxus T1 battery is located in the electric scooter's stem, which helps to keep it weatherproof and safe.
Single Battery:
If fully charged, it ranges from 23-30 km.
Optional Honeycomb tougher tyre and Elastic Pneumatic tyre- High.
Double dampers provide a more comfortable ride.
It is made from lighter and stronger Magnalium.
Hidden kickstand.
Rapid released battery controller and motor.
Smart Display
The LED intuitive display shows you the speed and battery direct information. The three riding modes of smart controls; Sports, Drive, and Eco can be operated directly by the LED intuitive display and can be switched by only two clicks which makes it easy to control under various modes of riding.
Some of the intelligent sensors in the Troxus T1
Brake Hall sensor
Flow sensor
Voltage sensor
Back EMF sensor
Bus Bar Current
Accelerator hall sensor
Controller temperature sensor
Battery temperature sensor
Battery overcurrent sensor
Battery Over-Voltage sensor
Troxus T1 is Durable!
Durability of Troxus T1 has been tested through:
Pedal Load test
Salt spray test for 48 hours
Stem/Handle fatigue test
Impact of front wheel test
Frame fatigue test
Troxus T1 Electric Scooter has an excellent battery management system
It includes:
Abnormal temperature protection
Low voltage Protection
Hot swap protection
Over-Discharge Protection
Over Voltage protection
Short-Circuit protection
Overcharged Protection
Trouble warning
Some other exciting features!
Unique and Innovative design
Battery and controller are located in the front of the electric scooter.
Ultra-Smooth Cruising
It has rear and front suspension and 10 air wheels.
Adjustable handle height that would make you feel like rolling on the clouds.
Easy, Portable, and Foldable
The new folding system design of the Troxus T1 and the high precision processing helps to ensure the high using time, also without any unnecessary gaps in between mechanical parts.
Moreover, it is now even easier to hand lift it or put it in the trunk.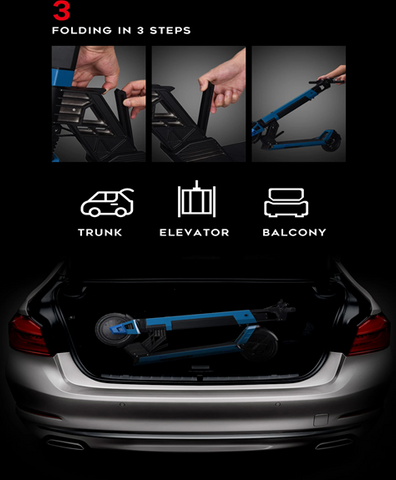 Easier to assemble and disassemble
It helps to make the maintenance and repair easier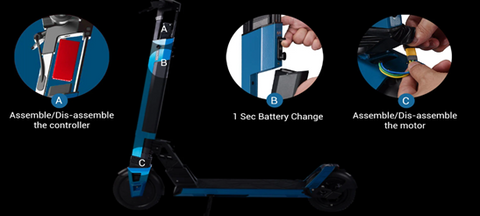 Flexible folding system
It has one second quick user-friendly release folding system. Moreover, it includes an electric shift, that is a multi-link, self-locking folder. Furthermore, the headset folding system that is suspended from front, brings the ultimate seamless and convenience into folding.
Get your Troxus T1 electric scooter now!
Buy one of the World best all-rounder scooter, Troxus T1 electric scooter for $499. It comes in mesmerizing blue color that would give you a fun ride with a classy look! Also, we provide 18 months of warranty and come with German standard and integrated lights.
For further information regarding product details and other features, Click here.
Note: If you buy now, you can take advantage of our special Christmas promotion, $50 OFF!