Scooter-Sharing vs. Owning an Electric Sooter
Shared e-scooters are getting increasingly popular in America as they are hailed to be a convenient, economical, and environmentally-friendly form of transport by scooter-sharing companies. But is this really true? Here we examine would owning your own personal electric scooter be a better idea than riding shared e-scooters.
Shared scooters are actually not that good for the environment.
Rentable e-scooters are managed by scooter companies, at the end of the day, they need to be collected with the use of vans and trucks to be taken to a recharging warehouse. These vans and trucks burn fossil fuels. So, riding a ride-sharing e-scooter is not emission-free. What's more, the ride-sharing E-scooters are public. Anyone who pays for them can have the right to use them. So, people don't take care of them, the lifespan of shared scooters is just six months. Quartz determined the average lifespan of a Bird scooter in Louisville to be 28.8 days, or just shy of a month. We often notice that the broken or drained e-scooters litter the sidewalks, generating lots of waste.
Ridesharing is getting expensive. 
It's getting expensive because cities limit them, and the business model has been unsustainable: A 10-minute ride on a Lime scooter, for instance, now hovers around $2.50. If someone makes that ride twice a day, for five days a week, over a year, they're looking at more than $1176 in rideshare fees, on top of whatever they pay for their primary method of transit (subway, bus, ferry, etc.).
Because of poor profits, shared e-scooters are of low quality.
Ride-sharing e-scooters are flimsy, so the ride is not as smooth, fast, safe. And even some of the problems with shared e-scooters have stemmed from poor vehicle designs. For example, many of the e-scooters on the road are consumer models. These consumer models are not made of materials that are designed to withstand constant use. Instead, they were made for single owners who only rode it a few times a day, at most. Consumer parts, especially those that are made of cheap plastic, deteriorate under the stress of constant use.
Privacy is challenged when you ride rentable scooters.
Data is the key to successfully managing micromobility programs — but with this comes risks to a cornerstone of civic life: individual privacy. Scooter-sharing companies collect anonymous GPS and cellular-based data on customer rides. This data helps companies and cities plan for the building of new bike lanes and enforce program rules such as parking and allowed service areas. It is unrealistic to ask cities to forego data gathering and analysis, but we can learn about how to manage privacy risks.
Having your own electric scooter
Owning an electric scooter has many benefits, let's jump into some of these points!
Folded e-scooters can be taken in the metro and charged in the office and home. It can take you the whole way, or it can be the last stretch of transportation from the metro station to the office/home.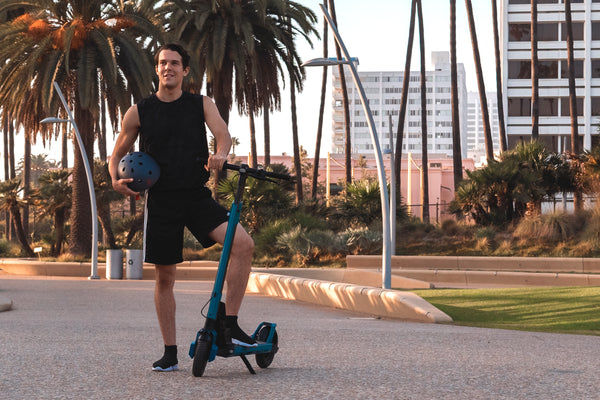 Some electric scooters take only 2-4 hours to fully charge while others may take 7-12 hours. It all depends on the type of battery.
These days there are plenty of great personal electric scooter options on the market. Good-quality e-scooters have many benefits. They offer a stable ride, speed, etc.
During peak hours you no longer need to worry about finding a rentable e-scooter.
5. Saves money in the long run.
Typically, a low-end model would cost around $300-$500, while a high-end model would cost upwards of $1,000 to $3,000.
So what are you waiting for? Get yourself a great electric scooter like the TROXUS All-around Electric Scooter T1!